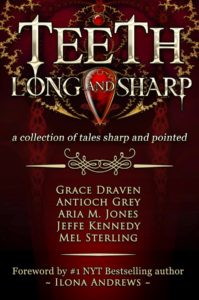 A collection of tales sharp and pointed.
IVORIES by Aria M. Jones – Eleanor resents the afternoons sacrificed to piano lessons and a disagreeable teacher who gloats over her failures and humiliations. Today, it's Mrs. Lundemann's turn for a sacrifice of a very different nature…
NIGHT TIDE by Grace Draven – Something hunts the surf at night, luring villagers to their deaths with a lullaby of sorrow and the torture of nightmares. Blessed with the gift of water-sight, Zigana Imre senses the presence of an ancient predator possessing a taste for human flesh sweetened by grief. With the help of a child of earth, she will battle a spawn of the sea to protect a loved one and save a man who will one day save a world.
THE NOISE OF FUR by Jeffe Kennedy – The first time, it came at night…
In the forest, a Thing prowls, picking off members of young Raven's tribe. If they flee their home, they face starvation. If only Raven can answer the question of what kind of fur makes that noise.
VENETRIX by Antioch Grey – A merchant and a poet come to the City, seeking justice for the murder of a relative, and if justice cannot be found, they will have revenge. They collude with vampires, negotiate with mermaids, share ale and meat pies with gargoyles and navigate the prisons, waterways and court system of a city ruled by a Master possessing long life and even longer teeth.
The City will make you a fortune, or it will kill you, but it will always change you.
THE VAMPIRES OF MULBERRY STREET by Aria M. Jones – Living the simple life in small town Indiana, Mrs. H has everything she could possibly ever want: a cozy house, peace and quiet, and a garden that is the envy of Mulberry Street. But when sinister outsiders disrupt the tranquility of her neighborhood, it might be time for her to come out of retirement and take up tools more deadly than pruning shears and a trowel.
VOICE OF THE KNIFE by Mel Sterling – Biologist Charles Napier doesn't mind getting lost in a Florida swamp—it's part of a scientist's job. Logic and training will get him out safely. Except lurking in this swamp, there's a monster Napier's science can't explain…a lonely, exquisite, desperate monster.
Foreword by Ilona Andrews.