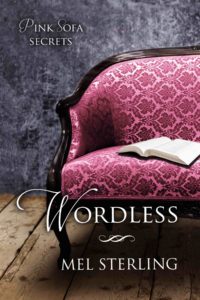 Disaster reporter and internet celebrity Jack Tucker is disillusioned after a stint embedded in Iraq. The IED that destroyed his team's Humvee brought him tragedy and regret, robbing him of the joy he took in his job–or anything else. He spends his days in a small Camden bookshop, struggling with writer's block, until the elderly proprietor dies, leaving him adrift.
Lexie Worth abandoned a promising career to keep her uncle's beloved bookstore alive. But the store's tabby cat hates her, local poets invade twice a month for scurrilous readings, and she knows she shouldn't get involved with sexy, troubled strangers like Jack. When the FBI comes knocking, with suspicions of fraud and racketeering, Lexie realizes someone's after more than a first edition or two.
Someone's been using the bookstore to hide their crimes. Someone dangerous–maybe even deadly. Jack wants to protect Lexie–if he can believe her. And if she doesn't find out exactly who he is…
Wordless, book one of the Pink Sofa Secrets series.
Wordless paperback (trade size):