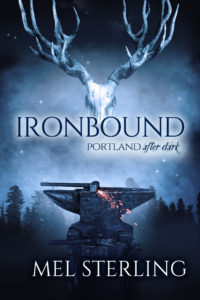 The Master of the Wild Hunt
In a single cataclysm of magic shattering a centuries-old bond of servitude, the Unseelie Queen of Forest Park loses her fiercest huntsman. Now Hunter is free to abscond with half her court and the Wild Hunt is his to command. Yet between the Queen's deadly incursions and a mysterious sickness spreading through his followers, Hunter's rebellion is doomed unless he turns to an even deadlier poison—mortal iron, and hands capable of shaping it.
The Mistress of Cold Iron
Dove Paisley ekes out a living as a modern-day blacksmith and office cleaner. Accidentally swept up in the Wild Hunt, Dove finds herself prisoner in a plague-stricken fae mound and forced to confront Hunter, the harsh, forbidding King in the East. Dove must drive the hardest bargain of her life: her freedom in exchange for forging the weapons that can turn the tide in a supernatural war.
But fae bargains twist on those who make them. The Master of the Hunt may have met his match, and if he isn't careful he'll be bound to a human woman by more than her iron sorcery. Together, the fae huntsman and the mortal blacksmith must break the Queen's malevolent enchantments before she binds them all forever in Death's cold hands.
Welcome back to Portland, After Dark.
Ironbound ebooks:
|Apple/iTunes| |Amazon| |Barnes and Noble| |Kobo|
Ironbound paperback (trade size): Coming soon!