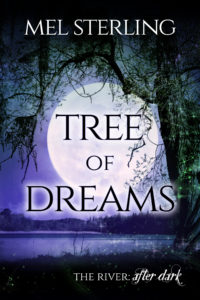 It's said that if you sleep under a willow tree, you'll dream of your true love.
Emma Leighton doesn't believe in fairy tales or monsters until a bolt of lightning from a freak summer storm reveals a glimpse of a river creature so fantastical, she can't be certain he's real.
Stranded by the storm, she spends the night in eerie Willow Cottage where terrified guests check out early, vowing never to return. Emma sees nothing out of the ordinary, but her dreams bring her a secret lover like no other, disturbing and alluring in equal measure. Moss is half man, half water serpent. His kisses are cool and deep as the Columbia River itself, and he's been in love with Emma for a long time.
What begins as a dream becomes flesh, an erotic fusing of hearts, souls and bodies. But when others learn the secret sheltered by Willow Cottage, they'll do anything—including kill—to possess it.
Welcome to The River: After Dark.
First in a new series.
Tree of Dreams ebooks:
| Apple/iBooks/iTunes| | Amazon | |Barnes and Noble | | Kobo |